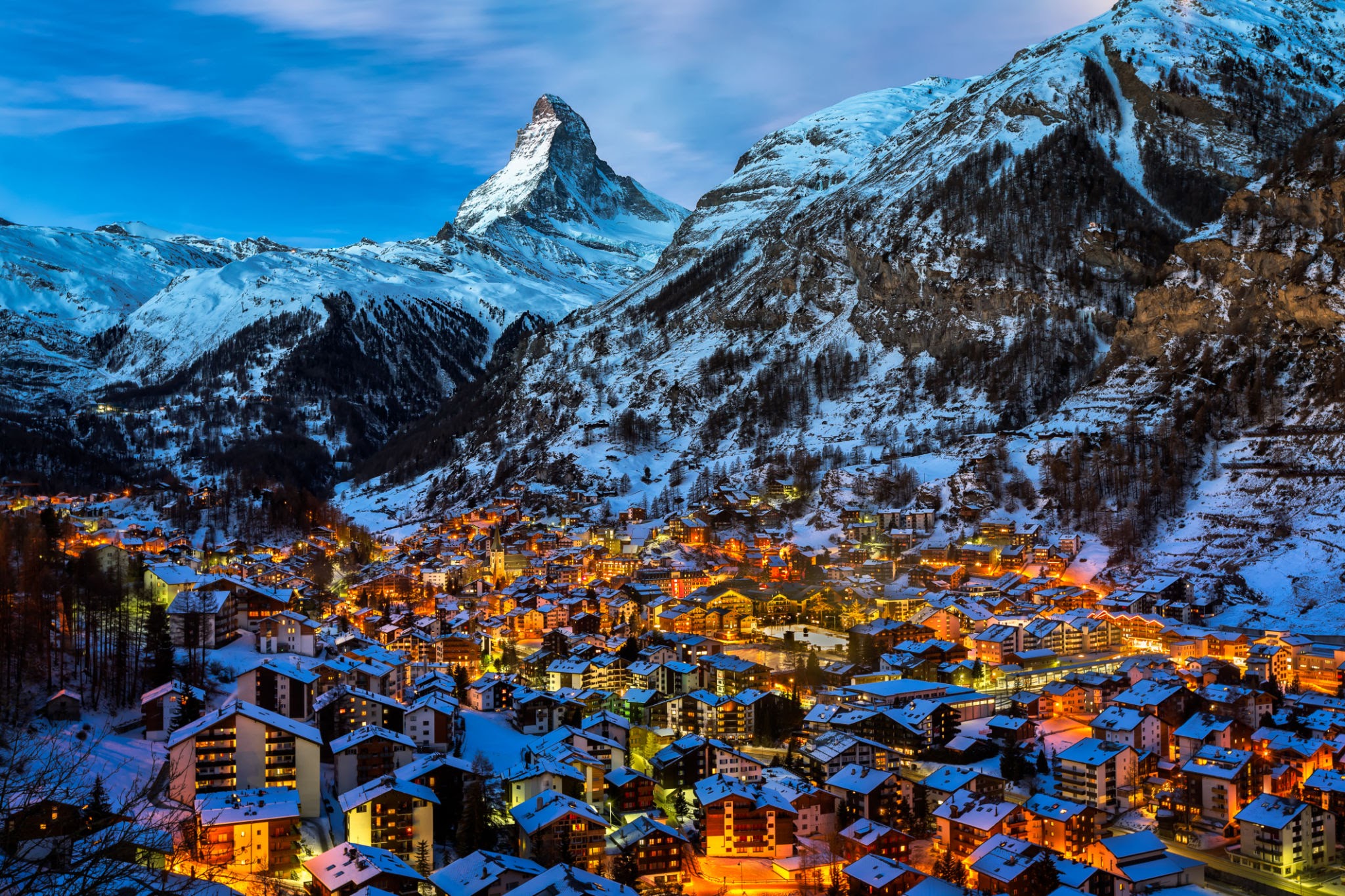 Key Facts
Skiing Elevation: 1620-3899
Blue: 16%
Red: 58%
Geneve Airport (3h 15m)
Resort Height: 1620m
Pistes: 200km
Black: 26%
Sion Airport (1h 30m)
---
Zermatt Resort Info
The name Zermatt likely conjures images of one of the most famous mountains in the world, the Matterhorn, a majestically imposing mountain straddling the Swiss-Italian border with an almost perfectly shaped pyramidal peak of 4,478 metres.
With some of the most striking views of the Swiss Alps to behold from the sheltered valley beneath the perennially snow-capped peak of the iconic mountain, Zermatt has aptly been referred to as a luxury ski break destination in a class of its own.
Often described endearingly as the 'Jewel in Switzerland's Crown', Zermatt is one of the best ski resorts in the world, with 183km of groomed pistes ranging in altitude from 1,620 metres, the altitude at which the trendy resort sits, up to the 'Matterhorn glacier paradise' at 3,883 metres. Advanced skiers have 394km of off-piste terrain for explore, and there's also the 'Gravity Park' freestyle area for snowboarders.
Nearly surrounded by the Pennine Alps and with a very attractive town centre, the town of Zermatt is a delight to explore with its bustling car-free cobbled streets, visually arresting buildings that are often referred to as 'chocolate box chalets', and suitably relaxed pace of life.
Not to mention a stylish, well-heeled international clientele that look equally at home mingling in a chic café or dining in an upmarket restaurant as they do taking on the more formidable descents that Zermatt offers in abundance.
---
Mountain Restaurants
RESTAURANT FINDLERHOF
In the hamlet of Findeln you can find the Findlerhof or Franz and Heidi's (a sensational vegetarian quiche), Chez Vrony (an awesome fish soup) and Heinz Julen's famous furniture, Enzian, Adler (rotiserie chicken), and Paradies.
RESTAURANT FLUHALP
Fluhalp is another frequent haunt and while enjoying a warm lamb filet salad, or filet steak with fresh asparagus in a béarnaise sauce you can listen to your favourite hit played by the resident band, this is a must stop for St Patricks day.
HOTEL RIFFELALP – RISTORANTE AL BOSCO
Hotel Riffelalp is a five star hotel and provides a great lunch haven from the elements with blazing fire, comfy slippers and a top menu or, if the weather is good you can eat on the terrace where soup is served from a Swiss Army cauldron over an open fire and the desserts are to die for.
RESTAURANT ZUM SEE
Zum See is set back in as small rustic hamlet and offers fantastic sweetbreads and a sublime apple Strudel. On colder days sit indoors on the round table and in March and April the outdoor terrace is a beautiful sun-trap (the raised table at the back).