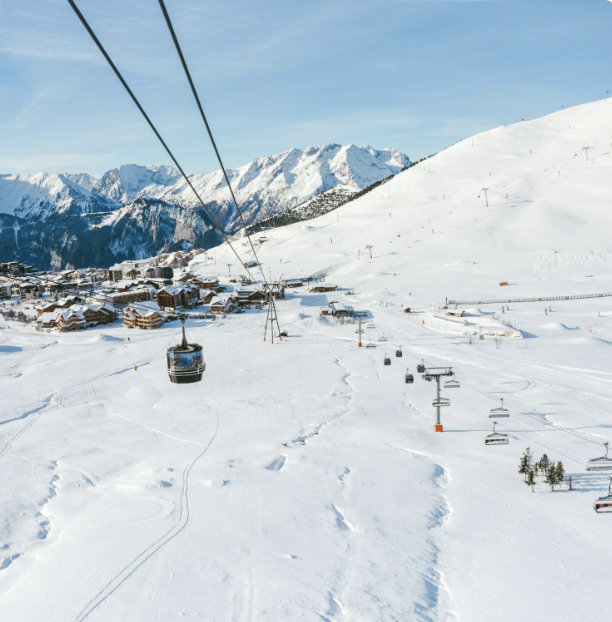 Key Facts
Skiing Elevation: 1100-3330m
Green: 32%
Red: 28%
Geneve Airport (2h 30m)
Resort Height: 1860m
Pistes: 237km
Blue: 26%
Black: 14%
---
Alpe d'Huez Resort Info
This resort is an idyllic haven that seamlessly blends traditional charm with innovative architecture, providing a plethora of pleasures for discerning travelers. Begin your day with the awe-inspiring spectacle of a majestic sunrise over the rugged peaks of Aiguilles d'Arves and Pic Blanc. After a delightful breakfast, embark on an adventure in a ski area boasting 250km of pristine slopes. Located at an elevation of 2800m, you'll be treated to breathtaking panoramas and refreshingly pure air, regardless of the season.
Opting for a prestigious rental in Alpe d'Huez means indulging in the utmost comfort amidst a tastefully designed interior, nestled in the heart of an untouched mountain range that seems to touch the heavens. In this untamed natural setting, Alpe d'Huez presents a paradise of activities for all. Whether you choose to ski, snowshoe, hike, ride a rail sledge, skate on ice, or embark on a dog sled ride, this resort truly caters to adventurous spirits. With its intertwining paths through slopes and forests, its leisure district, and local shops, Alpe d'Huez promises delight in both summer and winter.
Our collection of luxury rentals in Alpe d'Huez ensures the finest accommodations for your short or extended stay, whether you're a couple, a family, or a group of friends. Each property boasts a thoughtful design and comfortable layout, creating a serene sanctuary where you can nurture your well-being. As the snow vehicles secure the slopes at night, bask in the warmth of a crackling fire or unwind in the top-of-the-line chalet's Jacuzzi, embracing pure relaxation.
---
Recommended Mountain Restaurants
La Fruitière
Part of the vibrant La Folie Douce complex, La Fruitière is one of the two restaurants that embrace the winning formula of its sister establishments. With a contemporary twist on the ambiance of a traditional mountain dairy, this upscale dining venue is the perfect choice for a refined lunch before immersing yourself in the lively atmosphere of the bar outside. For those eager to maximize their dancing time, the adjacent Nuvoself self-service restaurant offers a selection of fast yet freshly prepared dishes in a stylish setting.
Le Signal
Situated at the Somet du Signal and easily accessible via the Signal and Sure chairlifts, Le Signal (+33 (0)4 76 80 39 54) is a fantastic option for both lunch and dinner. On the first floor, you can indulge in a leisurely lunch featuring delectable Savoyard specialties from their menu. Alternatively, if you prefer a quick bite, the self-service restaurant on the ground floor is ideal. Moreover, the restaurant boasts one of the resort's finest terraces, providing breathtaking views of the surrounding mountains.
Chalet du Lac Besson
There's an unparalleled satisfaction in discovering an exceptional restaurant slightly off the beaten path. Nestled away along the Chamois piste, Chalet du Lac Besson is a hidden gem waiting to be explored. On days when the weather is less than ideal, its cozy interior with an open fire offers the perfect retreat to warm up, while a charming terrace awaits those seeking the sun's embrace. With a superb menu showcasing French and regional cuisine, this chalet promises an unforgettable dining experience.
Restaurants in Alpe d'Huez
L'Altiport
Indulge in exceptional traditional French cuisine in a stunning setting at the Michelin-starred restaurant L'Altiport (+33 (0) 4 76 80 41 15). Situated near the resort's small airport, right on the slopes, this establishment welcomes guests for both lunch and dinner, easily accessible on foot or skis. Delight in specialties like poached frogs legs in Vin de Savoie, served in the cozy rustic interior or on the magnificent terrace with panoramic views of the resort. For an authentically French gourmet dining experience, it's hard to find a better choice.
Lounge 21
Located just a short distance from Smithy's Tavern on Route du Coulet, Lounge 21 is a chic and contemporary bar and restaurant specializing in Savoyard delicacies. Its stylish interior offers a refreshing departure from the usual rustic wooden panels and furnishings typically found in the region. Alongside an extensive menu of regional delights, they also serve a variety of grilled meats and fish. The bar boasts an impressive selection of wines, beers, and some of the finest cocktails in town. Lounge 21 has also earned Famille Plus accreditation for its efforts in catering to families.
Smithy's Tavern
Not only a popular après-ski spot, Smithy's Tavern also houses a restaurant renowned for its excellent range of Tex-Mex cuisine, featuring fajitas, burgers, steaks, wings, ribs, and satisfying vegetarian options. Additionally, they offer a fantastic kids' menu that includes an ice cream and a soft drink with every meal.
L'Alaska
For delectable pizzas and Savoyard specialties, visit L'Alaska (+33 (0)4 76 80 42 63) nestled in the heart of the old town. This charming traditional chalet-style restaurant exudes a warm and friendly atmosphere, welcoming guests with open arms.