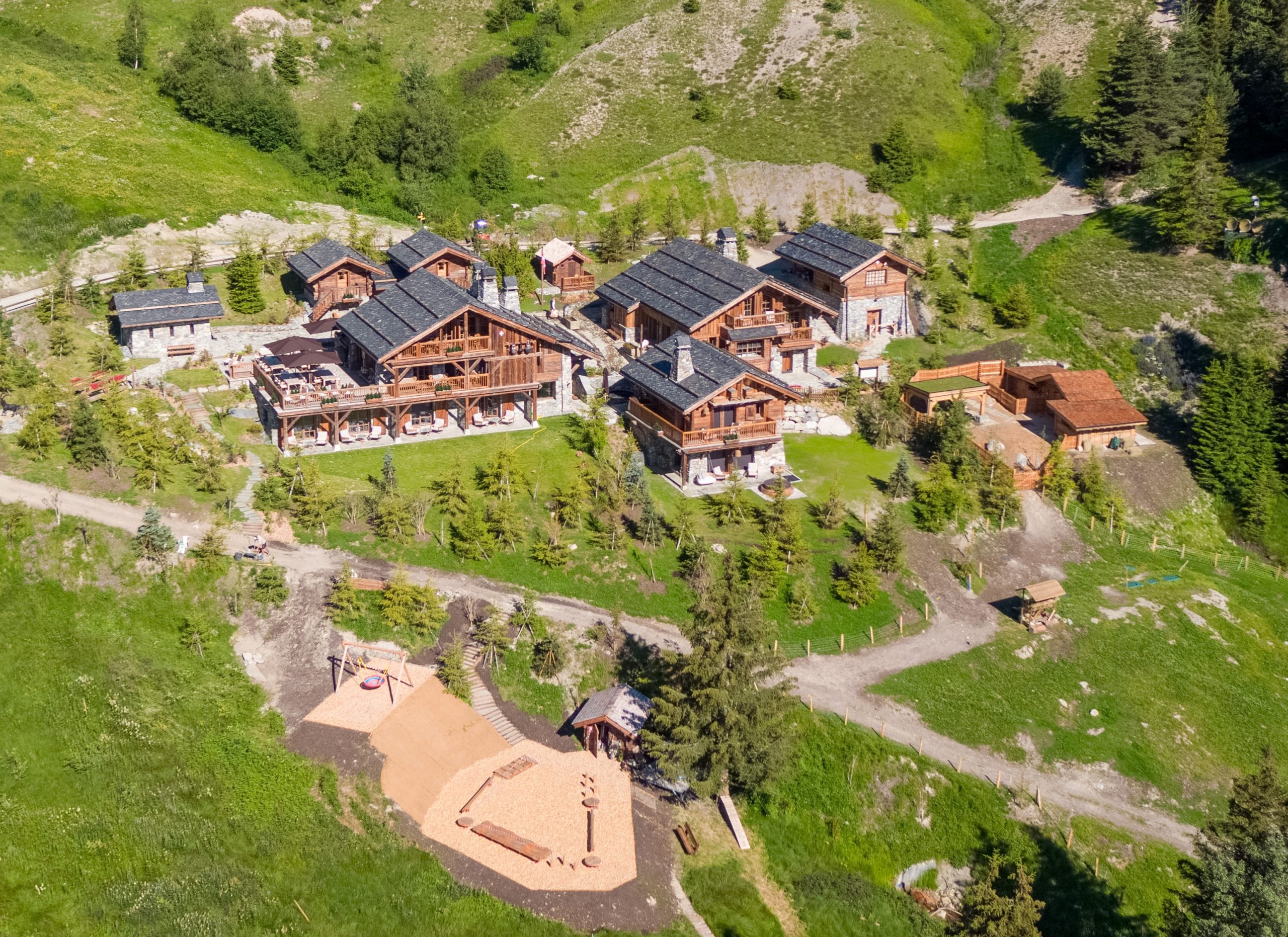 Refuge de la Traye
A one of its kind, high-end refuge in the middle of the mountains, with a luxury spa and gourmet experiences to be enjoyed in the cosy dining room.
Best time to visit
Jan
Feb
Mar
Apr
May
Jun
Jul
Aug
Sep
Oct
Nov
Dec
The lowdown
This Small Luxury Hotel nestled high in the mountains amongst the forest boasts an incredible panoramic view of Mont Blanc and beyond. On the boundary of the Three Valleys ski area, the Refuge de la Traye follows the pace of its guests. The refuge is more of an exclusive hamlet than a hotel, with just six boutique rooms and suites. The intimate space provides the opportunity to stay in the mountains in total luxury at all times of year, and is equally popular with summer holiday-makers. It also allows guests to discover the chef's specialities and to taste wines, cheeses and regional products in an unforgettable location. Luxury takes the form of small daily pleasures in Refuge de la Traye's relaxation areas, whether centered around the roaring fireplaces, the spa, or via the numerous activities available.
The spa is a haven of wellbeing, with unique treatments ranging from hay beds to milk baths. Relax your body and mind with more innovative high-technology treatments.
Soak up the sun and delight in the views from the panoramic terrace that wraps around the cosy dining room. Discover the chef's specialities, taste their wines, selection of hams, cheeses and regional specialities.
Perfect for a luxurious special occasion, where guests can enjoy the beauty of an exceptional landscape transcended by the comfort of an elegant refuge.
Spacious and cosy rooms with mountain colours and armchairs to wrap up in and enjoy the views.
Inside the refuge, guests feel instantly at home. From their arrival and throughout their stay, they are taken care of by the dedicated team, who expertly and discreetly ensure every part of their stay is memorable.
Incredible cinema room with wide sofa beds to enjoy a film.
---
Rooms and Suites
The refuge offers 6 bedrooms and suites that combine authenticity and sophistication in a unique way. The decoration of each room or suite includes the warmth of the wood, and the fabrics chosen offer exceptional comfort combined with prestigious high-tech services.
Deluxe Rooms: (23msq) 4 spacious and comfortable rooms suited for 2 people in the main refuge building with ensuite bathrooms and a private terrace to enjoy the views.
Suite Prestige: (80msq) A separate chalet for families and individuals to enjoy a private chalet atmosphere whilst being part of the refuge environment. This chalet has a large living room with a fireplace, a bedroom on the ground floor and a mezzanine area with two single beds.
Junior Suite: (30msq) A spacious room for 3 people displayed over 2 floors, with a deluxe suite located on the top floor. The suite is decorated in authentic colors from the mountain crafts and has a lounge area with a converted sofa bed for 2 children or 1 adult.
---
Anchor: apres ski and dining
Après ski and dining
Le Refuge de la Traye prides itself on its location and unique setting on the side of the mountain. The secluded refuge allows all guests to escape from the hustle and bustle of the main Méribel resort, and yet it's easily close enough to visit if you're craving some village life. During your stay, you are well looked after by the welcoming team who will maximise your experience during your stay. The dining room is located on the ground floor with a cosy fireplace, a bar area and spacious dining table for you to enjoy the resident chef's specialities: sample regional French wines, a selection of charcuterie, cheese and Alpine specialities brought to you throughout your stay, and get a taste for true mountain gastronomy.
Above the main dining room is a gorgeous mezzanine lounge. The elegant character in the lounge invites you to enjoy board games and a moment of relaxation. You can also indulge in a variety of cigars displayed in their cigar cellar. The perfect environment for apres-repas and a digestif by the fire, accompanied by the breathtaking views of the snow-capped peaks.
---
Spa and Wellness
The spa provides guests with a sanctuary at altitude, a space to relax and pamper yourselves with special treatments for aches and pains after a day's skiing. Providing full relaxation therapies for the mind and soul as well as forward thinking ways to recharge the body after an invigorating day outdoors, the Refuge boasts a range of futuristic technologies including Iyashi Dôme, Wellsystem, Mostleds and Stendo. You'll also find traditional treatments such as massages, sauna, hammam and jacuzzi, offering something for everyone.
---
In a nutshell
Hotel type: Small luxury refuge with state of the art cocoon spa, cigar and wine cellars with locally sourced gourmet food
Location: An intimate hamlet on a secluded plateau, in the middle of an extraordinary natural landscape above Les Allues, Méribel
Style: Luxury refuge designed with authentic and sophisticated decor, giving high-end traditional style
Ideal for: Couples, families and groups of all ages
Rooms: The refuge has 6 en suite rooms, spacious and cosy room with mountain colours and warm tones. The rooms offer a private balcony with comfortable seating to take in the panoramic views
Breakfast: A selection of delicious local delicacies, including Alpine cheeses, hams and homemade pastries. Choose a more continental breakfast if you prefer, enjoy a tailor-made menu curated by the in-house private chef
Dining: Indulge yourselves in a traditional evening with Fondue and Raclette, or customise your evening menu to something a little lighter and to your taste, the Chef will be delighted to tailor your menu for a truly unique and wonderful experience
Spa: A cocoon of relaxation and treatment, with traditional methods as well as high-tech machines for the ultimate escapism. Tailor your spa experience to your hearts content
Children: The refuge caters for all. Stay in the family suite and let your children enjoy the spacious activities area. The Refuge boasts entertainment for children including electric snowmobiles, tobogganing, zip-lines and an arts and crafts hut for the creative little ones. There is something for everyone – adults can join in too.
Refuge activities include: Electric snowmobiles for children, Bobsled track, Snowshoe walks, Biathlon shooting, and Zipline and tree climbing.
Other amenities
Ski Room
The Boutique Shop
Cigar Selection and Humidor
Private Chapel
Activities centre for children and adults
Zoo with farm animals
Fibre-optic Wi-Fi connection
24/7 Concierge and room service & Laundry service
---
Getting there
Chambery (CMF): 1h 00m / 100km
Grenoble (GNB): 1h 45m / 150km
Geneva (GVA): 1h 45m / 180km
Lyon (LYS): 1h 45m / 180km

Parking
Access via Private shuttle service only. Transfer from Méribel / Le Villard / Les Allues – with a private waiting room available.
---
Location
---
Prices
Low season price from: €XX per room B&B
High season price from: €XX per room B&B