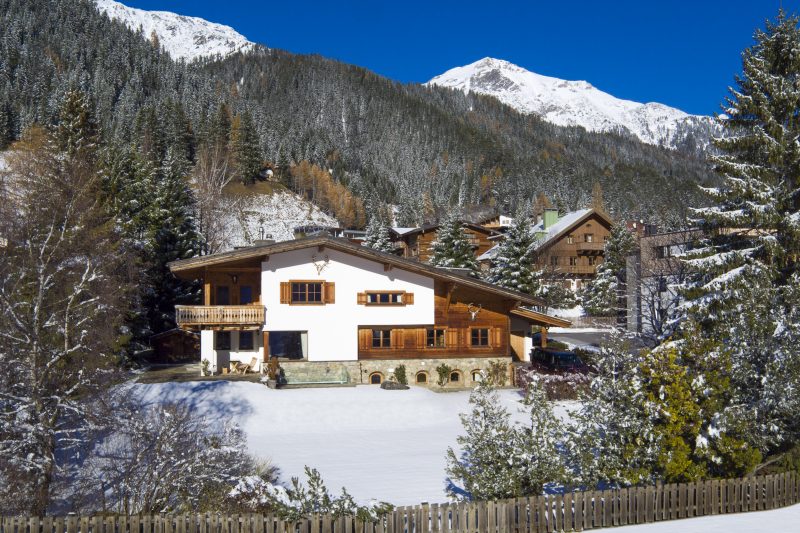 Chalet Maria Schnee – St Anton
A stunning chalet built for ski enthusiasts and lovers of the snow, Chalet Maria Schnee is the perfect location for a luxurious getaway in the Austrian Alps.
Best time to visit
Jan
Feb
Mar
Apr
May
Jun
Jul
Aug
Sep
Oct
Nov
Dec
The lowdown
Perched in the mountainous region of St Anton, Chalet Maria Schnee is a stunning property that is situated just a five minute walk from the main lifts in the St. Anton area. With a range of spa facilities inside, as well as marvellous views from any of the terraces on the property, Chalet Maria Schnee is a sanctuary of peace with the extravagance of a luxury getaway. Once the residence of famed Olympic skier Gertrude Gabl, it also holds a lot of history, making this particular chalet perfect for any ski-fanatic guests.
Perfect for a cosy movie night in for friends and families, with a children's playroom on the ground floor which converts into a cinema room.
Spa facilities such as a steam room and sauna create an ambience of sumptuous indulgence and an exclusive experience.
Multiple balconies giving views over the unforgettable landscape of the Austrian mountain region.
---
Decor
Located in the Nasserein area of St. Anton, Chalet Maria Schnee boasts complete privacy and indulgent furnishings throughout the property. With an Alpine interior that is typical of the Austrian mountain decor, Maria Schnee possesses the elegance of a traditional chalet. Pairing the old with the new, this chalet takes a traditional decor and adds oak accents and chic fabrics to bring a contemporary feel to the property. In all of the bathrooms, guests will also find details made from natural stone materials like limestone or black stone, to present the highest quality of interior design. With ceiling-high windows that open on the south-west facing terrace, and an open plan space and a large fireplace, Chalet Maria Schnee provides all the elements of a luxury getaway while embracing the environment that surrounds it.  
Rooms and Suites
This chalet is a haven of comfort and tranquillity, with all the space you could desire. With seven bedrooms, a mix of twin and double rooms, this chalet can host up to 15 people. This makes it the perfect place for families and friends to get away and spend some quality time together, with the luxury of your own private time and space.
BEDROOM 1
Master double bedroom with ensuite bathroom
BEDROOM 2
Twin / Double bedroom with ensuite bathroom
BEDROOM 3
Twin / Double room with private bathroom
BEDROOM 4
Bunk room (sleeps 4) with private shower room
BEDROOM 5
Twin / Double room with ensuite bathroom
BEDROOM 6
Double room with ensuite bathroom
BEDROOM 7
Single room with ensuite bathroom
---
Anchor: apres ski and dining
Location
At 1,304 metres above sea level, St Anton is located in the Tyrolean Alps in Austria, and is known as the gateway to the Arlberg ski region. Its involvement in the creation of skiing as a sport makes this picturesque village a must see, not just for its sensational views, but also for its history. Connected to a ski area with a total of 305 km of marked ski slopes, those who are snow sport enthusiasts will fall in love with St. Anton. For those who are more interested in mountain climbing or hiking, there are endless tours and trails to keep you entertained throughout your stay.
Après ski and dining
Alpine luxe – fully catered:
Chalet Maria Schnee offers a fully catered "Alpine Luxe" Service.
Enjoy a hearty breakfast, with a selection of delicious healthy mueslis, yoghurts from the local dairy, pastries and beautiful fruit platters, as well as smoothies, charcuterie and local cheeses. After skiing, return to the apartment for an indulgent freshly baked afternoon tea with sweet and savoury options – your host will be on hand to prepare fresh Kusmi Tea, Nespresso coffee and hot chocolate. In the evening, Veuve Clicquot Champagne and a selection of appetising canapés are served before dinner. Next, sit down for a three-course dinner shared with your family and friends, followed by a locally-inspired cheeseboard and a fireside digestif or coffee. Dinner is accompanied by a wonderful selection of European wines.
Children
For children staying at the chalet, a special menu can be prepared each evening. There is also a playroom on the lower ground floor where younger guests can make use of the games and toys that are available. This room also doubles as a cinema room, so endless entertainment is at your fingertips!
---
Spa and Wellness
While Chalet Maria Schnee is perfect for access to the slopes, it is also its own oasis of relaxation and tranquillity. With inhouse spa facilities, guests can rest and decompress after a day of skiing or traipsing around the village with a quiet trip to the sauna or steam room whenever they please. Then after, sit outside on one of the balconies with a hot cup of tea/coffee, or a glass of wine, and take in the magnificent panorama of the Austrian Alps. At Chalet Maria Schnee, a moment of self-care should always be a pleasure. .
---
Little Extras
Exclusive use of the chalet and its facilities
Dedicated service from the chalet staff
Children's supper
Champagne, canapés and dinner with carefully selected house wines (six nights)
An open bar with spirits, beers and soft drinks
Bath and beauty products
Bathrobes, towels, bed linen
Mid-week towel change
Daily housekeeping
Private ski instructor on 2 days (Mon & Tue)
Resort driving service (8am-1am)
Use of Wireless Internet (Wifi)
Dedicated Concierge Service from your Travel Consultant
---
Getting there
Innsbruck (INN): 1h / 100km
---
Location
---
Prices
Low season price from: €56,730
High season price from: €77,470