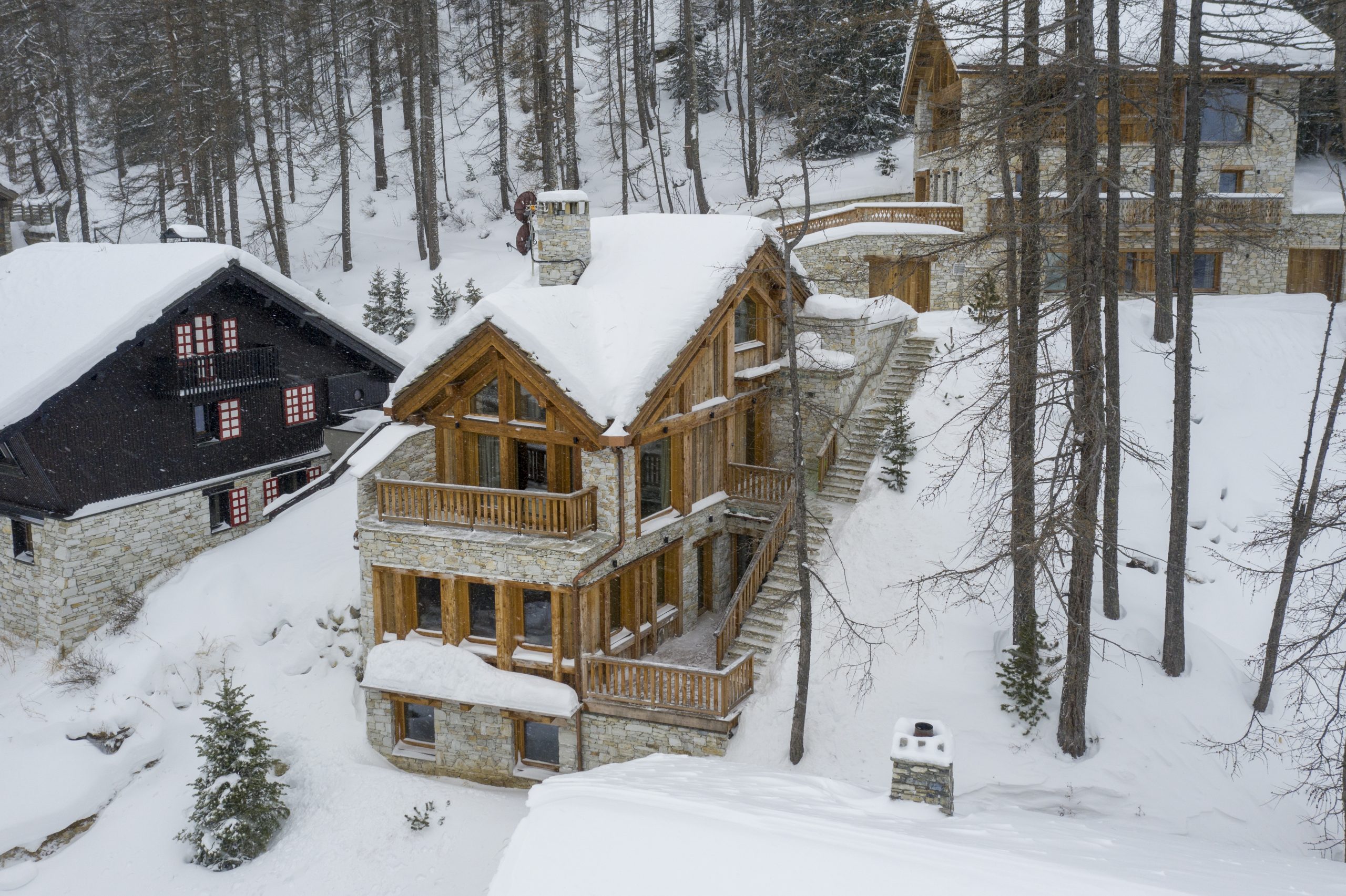 Chalet Inuit
A stunning newly completed luxury alpine chalet, with five bedrooms and sumptuous spa
Sleeps 12
Best time to visit
Jan
Feb
Mar
Apr
May
Jun
Jul
Aug
Sep
Oct
Nov
Dec
The lowdown
Sleeping up to 12 guests across five bedrooms, this beautifully decorated private chalet combines traditional craftsmanship with modern design and comfort. Chalet Inuit is a fabulous winter retreat for a large family or group of friends. The property is set into the side of the mountain on the edge of the forest above Val d'Isère, and offers incredible views of the snowy peaks across the valley while offering a refuge from the main town.
The spa is the ideal place to indulge in some well-earned self-care, with a large sunken hot tub, spacious sauna and a relaxation area.
---
Decor
Chalet Inuit has been recently decorated to capture the magic of the Alpine location while featuring all the modern touches of a more contemporary property. Expect bleached wooden panels, and large windows flooding the open plan living areas with light. The stylish round marble dining table seats eight guests comfortably, and the open plan layout of the rooms allows for fireside dining on cosy winter nights. The kitchen is tucked behind the staircase, and is fully kitted out for home cooking or private chefs.
Rooms and Suites
Chalet Inuit sleeps up to 12 guests in five individually designed bedrooms. There are two double en-suite bedrooms, two twin or double rooms, and a family suite on the upper ground floor with one twin/double bedroom and a children's bunk beds sleeping two, with itsown en-suite shower room, TV and Balcony.
---
Anchor: apres ski and dining
Location
Tucked away in the forest overlooking Val d'Isère, Chalet Inuit offers privacy and beautiful views of the village below. That said, the village centre is only a 3 – 4 minute drive, as is La Daille ski lift. The main Solaise Express lifts are an easy 5 – 6-minute drive. Forming part of the Espace Killy ski area, Val d'Isère provides the perfect location to experience the beauty and skiing conditions of the Savoy Alps.
Children
Children's menus can be designed to accommodate all dietary requirements while also providing a high quality service and exciting food experience. It's important that the adults don't have all the fun, the kids should have some too!
---
Spa and Wellness
The spa at Chalet Inuit is in keeping with the Scandi-chic interiors, with sheepskin rugs and a hanging basket chair overlooking the sunken hot tub, sauna and relaxation area. Unwind here after a day skiing, or go all-out and have a professional massage in the comfort of your own home.
---
Catered / Self Catered Service
Our contactless catering service comes with the choice of two pricing options, a fixed menu with food and drink included in the price, and our self catered option which allows you greater flexibility to eat and drink whatever you desire and the cost of the food is on supplement, at cost price, and depending on what produce you choose to order.
For those looking for a simple packaged chalet price, we are offering an all-inclusive price, which includes rental of the chalet and your food and drink for the week. Included will be breakfast, afternoon tea, a three course dinner on 6 out of 7 nights, plus unlimited wine and some beers. We have prepared a delicious menu for the week, with a mix of ready prepared meals from a local delicatessen and easy to cook dishes or sides. All that will be required from you is to pop a few things in the oven and throw together a few ingredients to make a simple salad, or steam a few vegetables as sides to your main meal.
Perhaps you want the freedom to choose your own menus, or perhaps you'd prefer to eat out more than one evening during the week, or you just love to cook yourself and enjoy the holidays where you have time to do this in a relaxed way. That's where our self catering service comes in. As an alternative to the service detailed above, we will also offer a lower rate, which does not include the food and drink for the week and we will give you the opportunity to order the food and drink of your choice, at the local hypermarket rates, and bill you for this afterwards. Four days before arrival, you will receive a comprehensive provisions list with everything you could possibly need for your holiday. That might be oven-ready meals, or the ingredients you'll need for Bolognaise, Soufflés or Cheese Fondues. Dry goods, dairy, fresh fruit and veg, fresh meat or fish, beers, wines, champagne, whatever, all bought for you and stocked in advance.
Our aim is to provide the safest possible environment for a ski holiday, whilst staying as affordable as possible. The new way to holiday will be by enjoying the facilities, food and beverages but without the staff waiting on you hand and foot. That will keep things safe and affordable. However, for those in search of a little more luxury, we are able to provide drivers, chefs, daily cleaning, ski lessons etc, all of which can be discussed at the time of booking or with our concierge service prior to arrival.
*Please note that for the self catered option, all food, drink, ski hire and lift passes come at additional costs and are not included in the chalet price. Provisions will be billed at cost price and can be ordered from the list that will be sent out to you, and ski hire and lift passes can be booked in advance with our preferential rates. For our fixed menu option, the price does not include ski hire and lift passes, but it does include breakfast and afternoon tea for 7 days, plus a 3-course dinner with beer and wine for 6 days.
---
Getting there
Chambery (CMF): 2h 15m / 140km
Grenoble (GNB): 2h 30m / 160km
Geneva (GVA): 3h / 220km
Lyon (LYS): 3h / 220km
---
Location
---
Prices
Low season price from: POA
High season price from:POA