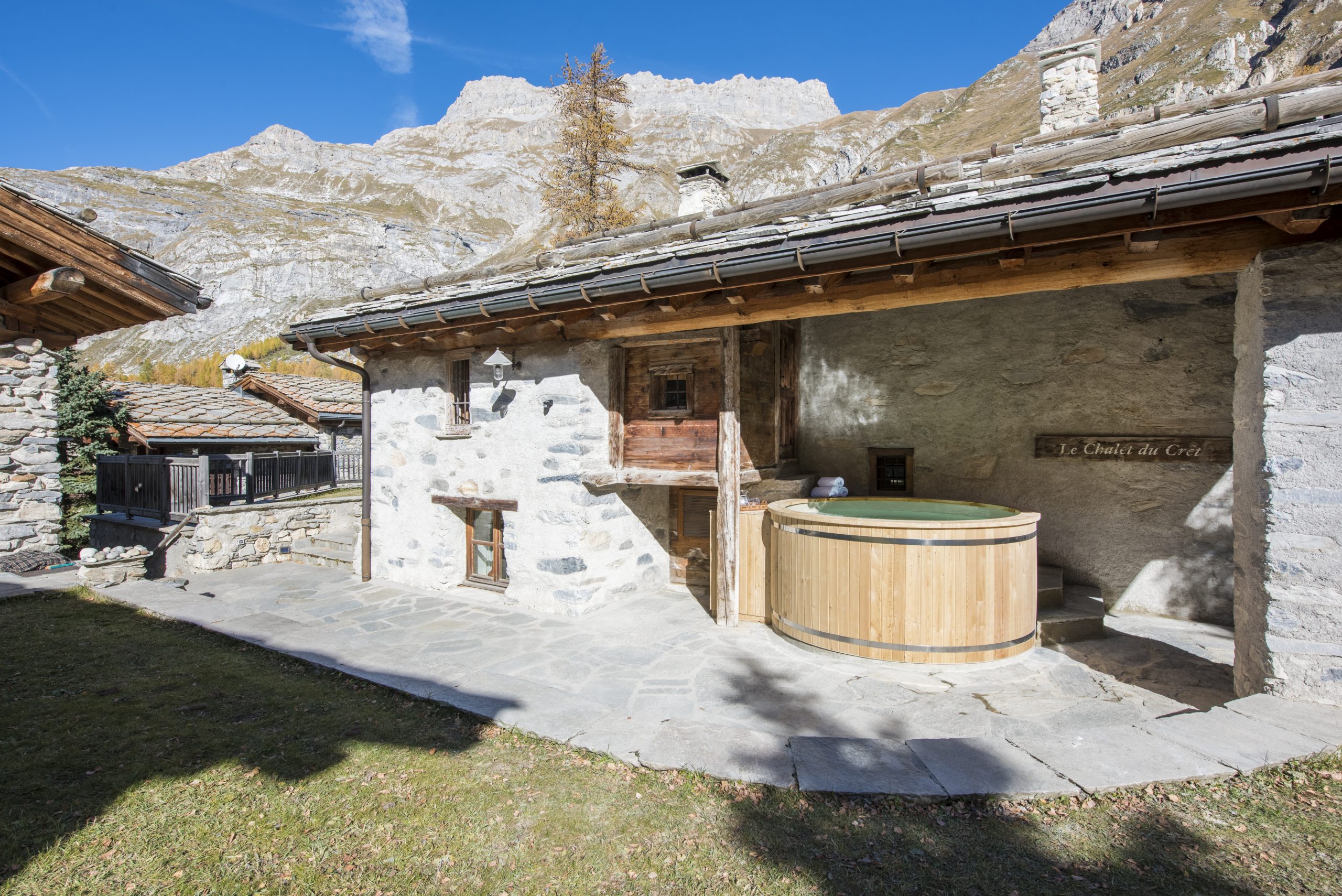 Chalet du Crêt – Val d'Isère
A newly restored monastic settlement turned luxury chalet, with all the character and intrigue of the Val d'Isère landscape. Situated just a five minute drive from the resort and lifts, this elegant property presents the meeting of the old and new with traditional timber interiors and contemporary art hanging on every wall.
Best time to visit
Jan
Feb
Mar
Apr
May
Jun
Jul
Aug
Sep
Oct
Nov
Dec
The lowdown
Chalet du Crêt sits in the corner of the Val d'Isère area, enjoying stunning views of the landscape while also being just a stone's throw away from all the excitement. Originally a cheese farm run by a group of monks, this property is bursting with history and charm, as well as refinement and exclusivity. With the capacity to host 12 guests, this six bedroom residence is perfect for family and friends, or any large group that is looking for an all-inclusive stay. Enjoy the comfort of the lush furniture and decor as you admire the scenic views, or escape to an oasis of tranquillity in the spa facilities on the first floor. Just a three minute drive from the centre of Val d'Isère and the major ski lift lines, Chalet du Crêt boasts not only location but also an experience that encompasses luxury, privacy and excellence of the highest form.
• Children's playroom which provides games, a climbing wall, and a tv. Let your children run wild within the comfort and safety of the chalet. Cosy up in the cinema room for a movie night with family and friends after a long day in the snow.
• Enjoy the outdoor hot tub with friends as you gaze at the panoramic views of the mountain. Alternatively, take a steam in the steam room after a day of skiing or enjoying the many winter activities available at Val d'Isère.
---
Decor
Chalet du Crêt's stunning interiors are the perfect oasis of luxury and relaxation. Taking an old property and converting it into a lavish living space, the owners have managed to create an ambience that celebrates its age and history while also bringing it a new energy that is both elegant and modern. Decorated with traditional wood interiors and exposed stone, Chalet du Crêt embraces its natural surroundings and makes more room for the fresh air with its high ceilings and open floor plan. The contemporary art donned on every wall adds a flavour of extravagance and culture that allows guests to feel like they may escape to the peaceful mountains without ever leaving behind the qualities of the cosmopolitan life.
Rooms and Suites
On the property, you will find six lavish bedrooms, a mix of super king / twin rooms with ensuite bathrooms and shower rooms. Every room is fitted with fresh, quality linens and bath supplies, as well as hand selected magnificent furniture, for a lush and comfortable stay. The master bedroom also boasts ceilings that are double the height, additional seating area and a balcony space.
BEDROOM 1
Super king / Twin suite with ensuite bathroom and separate shower, balcony and seated area
BEDROOM 2
Super king / Twin room with ensuite bathroom, desk and balcony
BEDROOM 3
Super king / Twin room with ensuite shower room
BEDROOM 4
Super king / Twin room with ensuite shower room
BEDROOM 5
Super king / Twin room with ensuite bathroom
BEDROOM 6
Super king / Twin room with ensuite shower room
---
Anchor: apres ski and dining
Location
Perched on the border of Italy in the French Alps, Val d'Isère sits at 1850 metres above sea level and spans 300km of mountainous terrain. The idyllic village of Val d'Isère provides the highest quality services from boutiques to restaurants and bars. Resting close to the Tignes, Val d'Isère forms part of the Espace Killy ski area, famous for its Olympic level skiing and exciting slopes. With access to the Bellevarde Face and all major lift lines, Val d'Isère is the perfect place for an all-inclusive experience. For lovers of skiing or lovers of the snow, Val d'Isère is a picturesque destination for those who desire a luxurious getaway in the mountains.
Après ski and dining
While guests are making the most of the slopes or relaxing in the in-house spa, Chalet du Crêt staff work to provide the best food and wine every day to make the experience as sumptuous as possible. With professional chefs at Michelin level, from a continental breakfast to a four course dinner, quality and quantity are never compromised. Wines are served from only the best producers in Europe, and canapes are always served before dinner, with a digestif provided afterwards. The option of afternoon tea is also available, with delectable sweet and savoury treats to pair with your tea or coffee. A complimentary drinks tray will also be open every day for guests to sample if they wish. Children will have a separate menu with dietary requirements also taken into account by our wonderful kitchen staff.
Inclusive services for fully catered:
For fully catered guests, a private driving service is available from 8:00am to 1:00am daily. A four course meal is also served six out of the seven evenings of your stay. This is provided by a professional chef who will cater to all your dietary needs while also serving the highest quality food. Lift passes will be available upon arrival, and a ski instructor will be at your disposal for two days to assist in any questions or guidance you may desire. Complimentary bathrobes, slippers and toiletries will be supplied in every room. A concierge will also be waiting at the Chalet to carry out any requests you may have throughout the duration of your stay.
Children
At Chalet du Crêt, children are fully catered to with their own areas designed solely for their enjoyment throughout their stay. While every kid loves a trip to the cinema, there is nothing more exciting than having the cinema brought to you, which is exactly why Chalet du Crêt hosts its own cinema room for endless movie nights throughout your holiday. A playroom built inside the chalet comes with games, fake grass to play on, and also a TV. The garden outside the property is also a wonderful place for children to play, especially in the snow! Meals may also be adapted to the needs of younger guests, with a menu put together specifically for children staying at the chalet.
---
Spa and Wellness
Part of Chalet du Crêt's appeal is, of course, its own spa facilities which are situated on the first floor. With a choice of an outdoor hot tub, sauna, and steam room, this chalet brings tranquillity to you that is extravagant and luxurious, with the added bonus of complete privacy. There is also a ski room where guests can warm their boots either before or after a day on the slopes. Peace and relaxation are always at your fingertips at Chalet du Crêt.
---
Little Extras
Lift passes available upon arrival
High-end bathrobes, towels and other bathroom supplies
Private ski instructor and driving service
Experienced chef
Hot tub and Hammam area with steam room and sauna
Children's playroom
Cinema room
Concierge services
---
Getting there
Chambery (CMF): 2h 15m / 140km
Grenoble (GNB): 2h 30m / 160km
Geneva (GVA): 3h / 220km
Lyon (LYS): 3h / 220km
---
Location
---
Prices
Low season price from: €17,680
High season price from: €105,310